""Having Sue Greenwald on the city council has been great for Davis, and in the coming four years her presence on the council will be more important than ever. She respects the citizen-generated General Plan, believes in Measure J and works hard for the health of the downtown. With Measure J coming up for a renewal vote in 2010, Sue's support for it, and for the General Plan and its values, become crucial attributes. Please vote for her.""
—Kim Stanley Robinson,
Science fiction author, Mars Trilogy

---
""For several years, I've had the opportunity to work closely with Sue on many complex fiscal issues. Her depth of knowledge and understanding of local and state finance is rare among public servants at any level of government and unparalleled in Davis. Sue's principled leadership, intelligence, dedication, and hard work are qualities that I admire and respect, and she's definitely earned my vote.""
—Mark Siegler,
Chair, Davis Finance and Budget Commission 2003-2006
Chair, Department of Economics, California State University, Sacramento


---
"Sue is my choice for council as we initiate Davis's new environmental sustainability program. I have known Sue for many years. She has a keen scientific mind and a deep understanding of environmental issues, as well as the sense of purpose and strength of commitment that we need now."
— Alan Hastings,
Professor of Environmental Science and Policy, UC Davis

---
"High on the list of things I love about Davis are the lively downtown and the quiet neighborhoods. Sue Greenwald has worked tirelessly, often alone on the council, to protect both. She is a great friend to the artists of Davis. If you also care about these things, please do your part to return her to office."
— Karen Joy Fowler,
Author of NYT bestselling novel
The Jane Austen Book Club
Davis resident

"Sue has always been our strongest advocate for our downtown. She's had great ideas, like bringing an independent film theater to the Varsity. Sue has vision. She has more ideas for additional outdoor dining, and more arts and entertainment and dining downtown, and would like to bring more condominiums and townhouses near downtown, which would add vitality and help our businesses. Please vote to re-elect Sue."
—Heather Caswell,
Owner, The Wardrobe
(Downtown woman's clothing store)
---
"Over the years, I have worked with Sue on many issues. She is thoughtful and insightful, and I trust her to keep Davis from becoming "Anytown U.S.A.". I give my full support to Sue."
— Stan Forbes,
School Board Member 1987-1996
Davis City Councilmember 1996-2000
---
"Sue was one of the earliest advocates for fairness for new subdivisions When our promised parks, pools and playgrounds were uncompleted, Sue took the lead and said: "Promises must be fulfilled." Sue was instrumental in pushing for the completion of the Mace Ranch parks, the Arroyo Pool, and Walnut park and pool. Sue insisted that new neighborhoods be repected. I have not forgotten how Sue has worked for us."
— Nancy Temple,
Mace Ranch Resident
---
"Mayor Greenwald really does her homework, and it shows when she advocates for good city planning and social justice. As a colleague, she is an invaluable voice on the City Council. Please give Sue your vote on June 3."
— Lamar Heystek,
Councilmember, City of Davis

"Sue Greenwald's record on the City Council has consistently shown her to be one of the most knowledgeable and strongest advocates for protection of open space and natural resources in Davis."
—Rick Grosberg,
Professor of Evolution & Ecology, UCDavis
Chair Davis Open Space commission, 2004-2006
---
""I have known Sue Greenwald for many years, and I have the utmost respect for her as a strong environmentalist and a thoughtful political leader. We are facing some critically important decisions in the next few years that will shape the size, density, and environmental direction of Davis, and Sue is the best candidate to lead us through those hard decisions. I'll be voting for her." "
— Brad Shaffer,
Director, Center for Population Biology
and Professor of Evolution and Ecology, UC Davis

---
"Sue has been in the forefront of promoting policies that keep Davis a cyclist-friendly community. "
— John Berg,
Chair, Davis Bicycle Commission

---
"Sue Greenwald understands how Davis works and has an extremely clear understanding of how to make it work better. I am continually impressed at how thoroughly she does her homework and how deeply she cares about the welfare of Davis as a community in which to live. She works tirelessly for fiscally responsible decision-making and has a clear vision for how to develop the downtown area as both an interesting cosmopolitan center and a vibrant business environment. She can help us avoid the sprawl that results when the "developer" mentality is in control. I'm confident that the welfare of the university is best served by the unique livable city she envisions. Her leadership will help Davis continue to attract the very best new faculty members and make the city a lively place for those of us who intend to reside here long-term. To achieve these goals, we should be sure that Sue Greenwald continues on the city council."

— John Roth,
Distinguished Professor of Microbiology, UC Davis
---
""It was no surprise to me when Sue got the most votes in her last city council election. Her consistent commitment to the needs of our neighborhoods, true slow growth, and the revitalization of the downtown have earned her a reputation as being a council member that one can always trust to stand up for what is best for Davis."

—Pam Gunnell,
Public school science teacher
Chair, Davis Planning Commission 2000-2002
---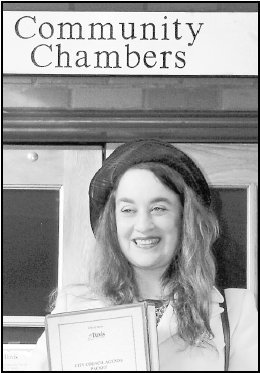 ---
"Sue has a solid history of advocating for neighborhood preservation, open space, ag land and habitat protection, and slow growth. We need her to protect our citizen-based General Plan, to reinstate Measure J in 2010, and to ensure that the citizens rather than developers take charge of our city planning decisions."

—Eileen Samitz,
Planning Commission, Member
---
"First defining a goal, then designing a way to reach it, is Sue's characteristic approach to problem solving. I trust her judgement. I will confirm my trust in her judgement by voting for her."

—Herbert Bauer,
Retired physician and
Recipient of a Davis Outstanding Citizen
of the Year award